SAP S/4HANA Intelligent Enterprise implementations with SAP Activate are based on innovative technologies and business processes:
S/4HANA Cloud Activate Innovation Service
This overview is focused on the RISE business transformation service for S/4HANA public or private cloud editions. Starting with functional and project management related topics, followed by SAP Activate Cloud Architecture and Technology.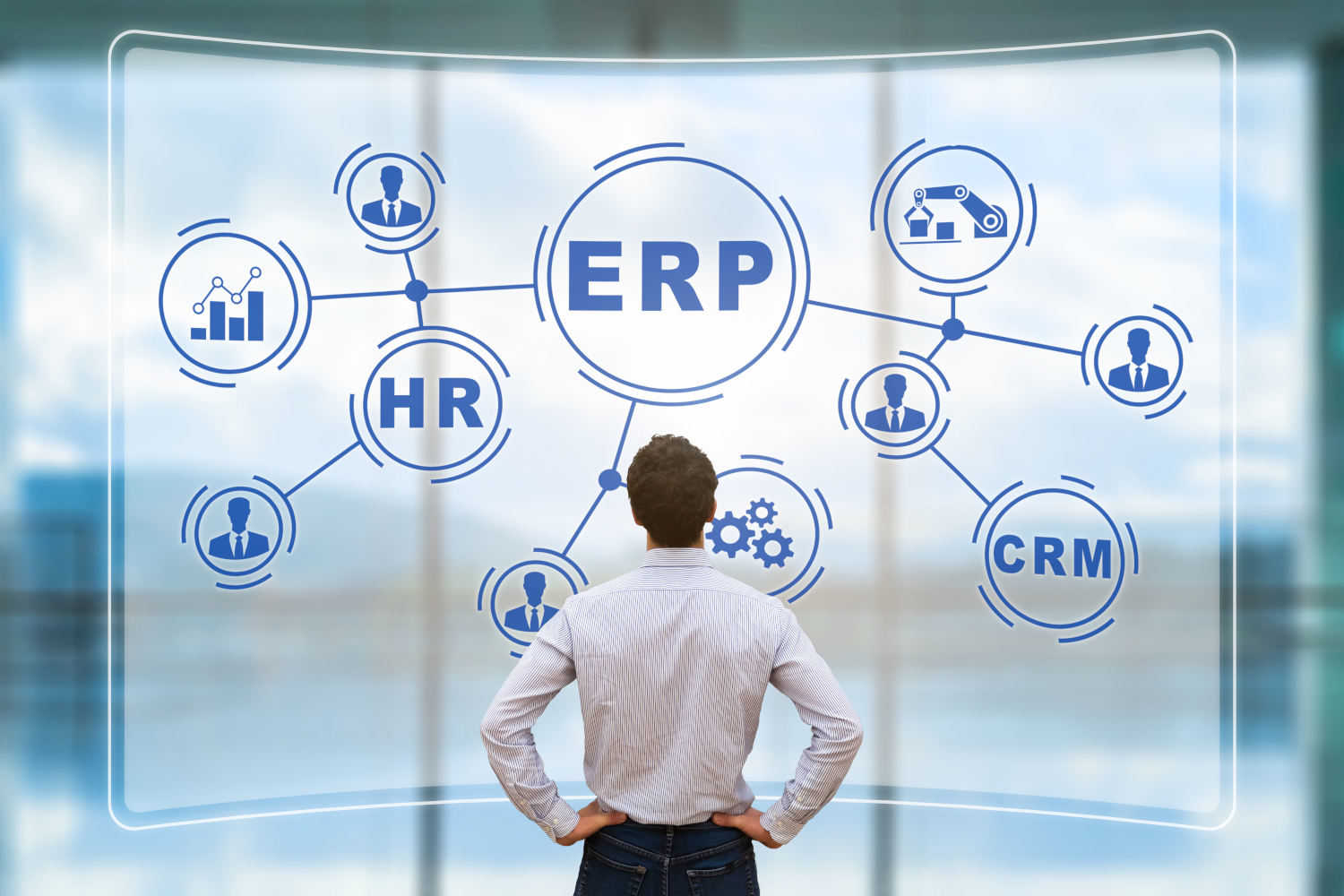 SAP's Activate Innovation service targets the implementation of new capabilities and business values for intelligent ERPs with characteristics like:
advanced cloud enabled technologies and fast innovation cycles
iterative methodology and agile project management
flexible cloud deployment options
shortened time to value and reduced costs
standardized and accelerated by best practices (re-usable content), instead of highly customized systems
defined phases with deliverables
scoped with fit-to-standard analysis
implemented with guided configuration
SAP S/4HANA Activate Innovation Pillars
S/4HANA transformation projects shall implement the SAP Activate methodology with best practices and tools, guided by specific roadmaps with details for S/4HANA Cloud RISE with SAP S/4HANA Cloud, private edition (PCE) and SAP S/4HANA Cloud deployment options.
The SAP Roadmap Viewer offers navigation through the SAL Activate methodology and Solution Manager project plan templates as download.
SAP Activate roadmaps are structured in phases (project stages), at least four quality gates with defined deliverables, workstreams, deliverables associated with multiple tasks (work to be performed) and artifacts (input or deliverable document or information of activities).
Workstreams are teams grouped by activity type with collections of deliverables (outcomes) like:
Project Management
Workstreams with functional focus e.g. Application Design and Configuration, Solution Adaption (to provide processes and procedures that help people and organizations adopt the new business system effectively) or Testing
Workstreams with technical focus like Technical Architecture & Infrastructure, Data Management, Integration, Extension, Analytics, Operation & Support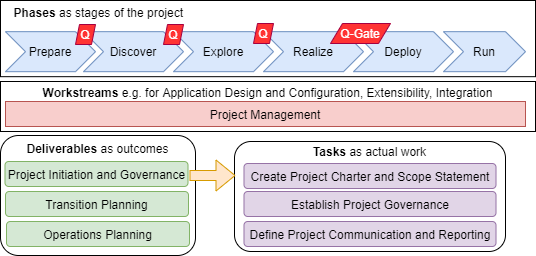 SAP Solution Implementation Roadmaps provide detailed descriptions of required implementation tasks with available accelerators and define deliverables for each phase.
Accelerators provided as downloads or web links help to perform workstreams tasks. Some examples are templates (e.g. for Chart of accounts, Organizational structures, Mapping SSCUI - Scope Item ID), examples, guides, preconfigured content or test scripts .
SAP Activate Best Practices Content
SAP S/4HANA offers Best Practices as pre-delivered business processes updated with each new release. The Best Practise Explorer helps discovering packages with scope items (business processes) for public or private Cloud Editions.
Best practices content for S/4HANA Public cloud editions is included in each release and can be activated with the Central Business Configuration. Activitation of RISE S/4HANA [PCE Best Practices](#rise-s4hana-cloud-pce-business-content "RISE S/4HANA Cloud PCE Business Content") is possible with the Solution Builder in the development system.
SAP Best Practices offer content for migrations and integrations. Migration content is available for non-SAP and SAP databases, with data validation rules and quality content to address poor quality or duplicated entries. API Business Hub integration content is suitable for out of the box integrations with SAP Cloud Integration and CIAS.
Scope items are specific parts of business processes and instantiations of best practices. They are delivered with additional information like fact sheets (describing the business process including benefits and steps), editable process flow presentations (BLMN2), test scripts and setup instructions which have to be completed prior to test scripts.
Building blocks are self-contained and reusable entities of business content for S/4HANA Private Cloud editions. Building blocks contain configuration sets (groups of IMG activities) for specific business processes, with configuration guide and unit tests. Scope items are associated to building blocks with cardinality n:n.
SAP Activate Project Key Activities
The following diagram visualizes some key activities across RISE deployment options S/4HANA public and private deployment.
Some main differences between the transition approaches New Implementation and System Conversion are shown in the diagram below. These differences are mainly located in areas like custom value discovery, custom code handling, system setup, data migration and process design.
RISE Transformation Service Components
SAP RISE transformation bundles services for Software & Support, Infrastructure Management, Technical Managed Services in one contract.
The RISE offering includes:
full S/4HANA scope as a service for public and private cloud deployments for available industries, countries, languages
PCE tools Readiness Check and Custom Code Migration App
SAP Launchpad Service as central point of access for SAP Mobile Start to SAP, BTP apps and third party solutions with smooth app integration for different UI technologies and third-party Web apps
the Business Process Intelligence starter pack includes

Process Insights offers data-driven insights and (top S/4HANA) recommendations instantly to start improving right away with narrowed focus on really issues, automated process data extraction and RPA integration with automated monitoring capabilities.
Process Manager to capture, document, compare, model and simulate processes
Collaboration Hub to drive, govern and document your transformation journey end-to-end with the transparency of a centralized location for managing your processes. The fostered collaboration across organizations connects the dots

Process Discovery (only PCE) Summary PDF reports

areas with top opportunities to improve, top recommendations and top performance
insights into current business processes based one usage data and process performance
industry benchmarks to compare against peers
specific top S/4HANA recommendations including information about most relevant functionalities and automation

cloud-based Process Discovery Solution (only PCE) as interactive report across six LoB and seven end-to-end processes to identify areas for improvements and automations
BTP Cloud Platform Enterprise Agreement (CPEA) credits to be used for e.g. SAP BTP AI Business Services
the starter package for global Business Network enables digital collaboration across trading partners

Ariba Supplier Network reduces business process costs with higher on-time deliveries. Buyers and suppliers send e.g. orders, confirmations or invoices
Logistics Business Network with Material Traceability (augmented by blockchain), Global track and trace and Freight collaboration to reduce costs
Assets Intelligence Network improves equipment uptime with lower maintenance costs

Cloud network components like web dispatcher, load balancer
Cloud connector to SAP cloud solutions (Ariba, SuccessFactors, IBP, Concur)
SAP Adobe Document Service (ADS)
Additional licenses are required for e.g. subscriptions of BTP or Business Network volumes higher than provisioned with RISE starter packages, Enable Now editing, Learning Hub
The Roles and Responsibilities document is part of the contract and describes the service catalog:
some standard services covered by the RISE contract are Best Practices activation, technical Fiori Enablement, one migration test run for production, continuous service planning and review. These services have to be requested via service requests
example services with additional service fee are Disaster Recovery with RPO 30 min and RTO 12 hrs (reducable to 4 hrs), additional systems (e.g. trial, sandbox) with minimum subscription time of several month, system extensions and temporary additional storage during system conversion / data migration
some SAP Responsibilities are to execute tasks requiring OS/DB access for System Conversion, technical (base) operations, upgrade installation, Software and Enterprise Support for cloud editions
Customer Responsibilities (or partner) include all system conversion tasks except technical tasks only performable by SAP (in client 000), enabling and configuring business relevant SAP Fiori apps
Application management services (AMS) performable by customers, partners or SAP Cloud Application Services (CAS)

Planning and coordination of system delivery with SAP
activities in source system and activities via GUI in target system for System Conversion, Selective Data Transition, System Copy
Release Upgrade Planning, Coordination & Execution

Advisory and implementation services by partners comprise

Program Management Office, OCM training, Business Process Configuration
innovation, extension, cloud integration services
S/4HANA Cloud Activate Discovery
RISE S/4HANA Cloud projects start with the sales phase, from first contact and ends with the contract, where sales teams work together with cloud architects, technical experts and business contacts.
Main activities in the S/4HANA Cloud Activate Discovery phase are:
to discover S/4HANA values e.g. with Feature Scope Description (FSD), Extensibility Guide
customers shall create a high-level business transformation strategy plan to build their Intelligent Enterprise business case with key elements Intelligent Suite, Digital Platform and Intelligent Technologies
high level solution scoping for contracting based on checks against requirements, can be evaluated with configured CAL (Cloud Appliance Library) trial system (containing predefined scenarios, data and guided tours) and a Digital Discovery Assessment (DDA)
Business Driven Configuration Assessment provides preliminary configuration data and further insights into existing operational processes
identify L1 (core team and executive sponsors), L2 (key users and extended project team), L3 (internal or external consumers) and L4 (implementation project team) key stakeholders
use Business Process Intelligence to gain end-to-end process insights with analytics and benchmarking
get familiar how to implement new business models with SAP Intelligent Suite Qualities and SAP S/4HANA Intelligent Enterprise Technologies
Digital Discovery Assessment (DDA)
The DDA tool is part of the Brand Guardian Process, used for scoping during the sales cycle of the SAP Activate Discover phase. DDA helps to select the cloud product, which best fit to all required functionality.
The assessment captures customer's needs with selected countries and a list of known integrations and extensions. Based on the outcome, a decision can be taken between SAP S/4HANA Cloud or Private Cloud edition.
Fürther characteristics of the outcome report:
basis to determine the project scope and the overall project timelines
is handed over to the implementation team
provides defined business priorities, relevant scope items, required localizations and integrations (e.g. Service Now).
SAP S/4HANA RISE Activate Deployment Options
SAP S/4HANA RISE offers scalable public and private cloud deployment options for different system landscapes.
Private Cloud
offers full functional S/4HANA scope and full flexibility
to transform existing, highly complex ERP systems (highly customized, huge amount of data) gradually into a flexible and extensible SaaS landscape
with individual pace and incremental innovations
System conversions retain the investment into existing custom code enhancements and configurations
Public cloud
offers the fastest path to innovation, with short release cycles, lowest TCO for low complex landscapes
the clean public cloud ERP solution allows to reimagine business processes based on standardized best practices
SAP S/4HANA Activate Two-Tier Scenarios
Two-Tier Deployments enable different ERP systems at two layers of the organization. Helping companies to realize their faster growing business with end-to-end solutions across hybrid system landscapes.
This approach allows organizations to standardize on one system, to meet functional and budgetary requirements. The second system enables maintaining flexible business functions.
Two-tier deployments increase the complexity of the IT architecture with additional integration requirements. Master data management and configuration need to be harmonized between systems.
Examples of two-tier ERP scenarios:
| | | |
| --- | --- | --- |
| Headquarter - Subsidiary | Headquarter | Subsidiary or spin-off |
| Central shared service | Rest of business | separate legal entities like finance or procurement |
| Ecosystem model | Headquarter | subcontractors or dealers |
SAP RISE System Landscapes
The table below compares public and private cloud deployment options.
Single contract for both options with same characteristics:
| | |
| --- | --- |
| PaaS / IaaS / SaaS | managed by SAP |
| SLA (except Cloud bundle) | 99,7 |
| Technical managed services | SAP |
| Application Management service | by customer, partner or SAP (CAS) |
| Advisory and development service | by customer or partner |
| IaaS | Hyperscaler |
Differences between public and private cloud:
| | | |
| --- | --- | --- |
| Release Cycles | 2-system quarterly, 3-system twice a year | annual, starting 2023 two-year |
| Add-Ons | not allowed | solution extensions and certified add-ons allowed, third party add-ons managed by customers allowed with restrictions |
| Configuration | Guided Configuration SSCUI | IMG |
| Application Lifecycle Management (ACM) | SAP Cloud ALM components for Operations and Implementation | SAP Cloud ALM, Solution Manager e.g. with Custom Code Management (CCM) reporting, KPIs |
| Modifications | not allowed | allowed, but not recommended |
SAP S/4HANA RISE Activate Transition Options
System Conversion
S/4HANA System Conversion is the recommended option when implemented business processes already fit with the long-term strategy and can be taken over for reuse. System Conversions are guided by the simplification list and realized with incremental innovation projects.
The project duration is mainly affected technically by data size and custom code quality. Functionally the number of company codes, ledgers, operating concerns affect the project duration. Preparation activities have to check the compatibility of components, custom code and add-ons (using maintenance planner) with the target S/4HANA system.
Technically the one step (big bang) conversion of application and database retains existing configuration, custom code and historical application data.
Selective Data Transition
Selective Data Transition is recommended to retain current process model with selective adjustments.
business need is to go live in phases (e.g. business units, countries)
consolidate multiple ERP systems into one (Merger)
split SAP systems, carve out business units
selective transform the landscape with a phased approach using the SAP Landscape Transformation Tool
covers the migration of relevant business data from SAP ERP to S/4HANA Cloud private Edition
allows a tailored scope between System Conversion and New Implementation
flexibility to adapt data and processes in one transition step. Reduce old data and application areas.
reduce re-implementation effort or risks by reducing application areas or large amounts of old data
New Implementation / Greenfield
New Implementation is the only option to deploy S/4HANA in the public cloud.
on-premise or cloud deployment options
migrate transactional and master data with predefined migration objects of the SAP S/4HANA Migration Cockpit
reimagine and design new business processes with best practices
project duration is especially affected by number, volume and complexity of migration objects for initial data load
public cloud implementation with guided configuration
private cloud or on-premise installation with Software Provisioning Manager
S/4HANA Cloud Activate Prepare
Common functional, project management and linked technical key activities in the Prepare phase:
review documentation (e.g. SLA agreement, Cloud Mindset implementation, SAP Cloud ALM). Enable access to Learning Hub, SAP Cloud ALM for Implementation
introduce Organizational Change Management (OCM)

agree on OCM concept
enable and onboard team with kick-off

enable Project Management and initialize planning
prepare Fit-to-Standard system and workshop

set-up Cloud Appliance Library (CAL) or Development system
create initial integration API lists with integration setup
perform business process assessment (level 2) to gather all information needed for the Fit-to-Standard workshops
S/4HANA PCE Activate Prepare
Some main tasks for Private Cloud Editions (PCE):
review PCE business content options to accelerate the S/4HANA transition
establish Solution Standardization Board (SBB). SBB controls the alignment with extensibility guides (Note 2920697) and approves deviations (development, modification).
understand the Cloud mindset
RISE Transformation Project Management
Project Management ensures to meet project requirements with planning, scheduling and tracking (time, budget, scope, quality).
Project roles with responsibilities:
key users

validate and test new business processes
share knowledge with their peers
manage users and task assignment
search for solutions and process incidents
monitor internal/external communication e.g. with printers and integrations

Configuration Experts / implementation partner consultants

manage Fit-to-Standard analysis processes
resolve business process issues

Business Process Experts

drive decisions
perform testing
perform and confirm configuration
Organizational Change Management (OCM)
The OCM workstream shall prepare for changes associated with projects and help to develop an innovation culture. Finding synergies with Customer COE transformation activities ensure smooth transition processes.
Main OCM tasks are:
identify and engage stakeholder
define communication plan with defined channels to get a common understanding
define organizational transition and adaption
establish learning team with appropriate content
OCM effectiveness can be enhanced by
gathering information from project members
organizing workshops for employees to

check the progress of change
collect usability feedback from end users
SAP Cloud ALM for Implementation
SAP Cloud Application Lifecycle Management (CALM) for Implementation covers the application lifecycle phases Design, Build, Test, Deploy. Cloud ALM supports .
Core capabilities are:
Scoping & implementation

content-driven project management
implementation based on SAP Activate methodology and Best Practices
projects are container for scope, requirements, test cases, tasks and user stories
transport integration for deployments

Task management

Templates for S/4HANA Cloud public or private editions get converted into actionable and extendable Cloud ALM tasklists
tasklists are hierarchically organized with phases, workstreams (activity type) and tasks
Some available functions for tasks

assignment to teams, roles and persons
extendable with subtasks
Gantt chart view or predefined analytical reports

Change & Deploy Requirements

Tasks can additionally be created for requirements collected in Fit-to-Standard workshops or manually for specific business processes
interplay with Cloud Transport Management Service (TMS) to orchestrate transport requests deployments

through implementation landscapes for supported content types of S/4HANA Cloud and PCE, SAP BTP
daily on-demand to S/4HANA or other sap cloud solutions

Test Management characteristics

lean, agile, process and requirement oriented
test cases based on business scope
test step execution with status
manual and automated tests
Integration with automation tool (Tricentis)

Landscape management
S/4HANA Cloud Activate Cloud Mindset
Transformations to S/4HANA Cloud public and private editions shall be implemented with a Cloud mindset following 5 Golden Rules:
foster cloud principles with continuously innovations
explore Fit-to-Standard with SAP Best Practices, pre-configured solutions with predefined processes and implement standardization
realize Cloud Like Integrations of solutions with modern technologies and whitelisted APIs
implement In-App and Side-by-Side Cloud Like Extensions with whitelisted APIs managed by SAP
document non-standard, non-cloud like implementations transparent with explanations
As result, business processes shall fit the software with workarounds and light extensions e.g. In-App Custom Fields.
S/4HANA Cloud Activate Explore
Common functional, project management and linked technical key activities in the Explore phase:
RISE S/4HANA Cloud PCE Business Content
Benefits of using ready-to-use content (best practices and accelerators) are fast time to value and predictable results. S/4HANA New Implementation Projects have to evaluate whether the Best Practices Content covers most of the customer requirements.
SAP S/4HANA Best Practises Content
Best Practices content activation has to be requested (SAP Note 3039705) and only one activation is included in the RISE contract. The activation has to be prepared with the creation of a best practice client and the download of the most recent best practices content.
Best Practices should only be used for greenfield implementations and cannot be activated in already configured clients.
SAP S/4HANA Enterprise Management Layer (EML)
EML is the successor of the SAP Model Company for Multinational Corporations and can be deployed On-Premise or with CAL for S/4HANA Private Cloud (PCE).
SAP S/4HANA Enterprise Management Layer implement Best Practices with preconfigured business processes, sample master data, reporting content, user documentation, predelivered business and integration processes.
The functional EML scope is clustered in 3 layers always provided standard scope (around 160 scope items), scope options deployed on customer request (include less relevant scope or items with additional licenses) and customer specific service options with cost impact.
The Enterprise Management Layer (EML) is not included in the PCE subscription, but available on demand with additional costs.
System setup strategies
Either sandbox (SBX) or development (DEV) systems will be used for the Fit-to-Standard workshops. They will also be used in the Realize phase (SBX has to be copied).
New implementations can reuse SBX environment as DEV environment eliminates the requirement to install an additional system.
System conversions convert existing DEV system to SAP S/4HANA. Based on the migration approach validated in the SBX environment.
Cloud Appliance Library (CAL) deployments are available within 2-3 hours on Hyperscaler platforms. CAL offers trial (model company), sandbox or scoping systems.
S/4HANA Cloud Activate Realize
Common functional, project management and linked technical key activities in the Realize phase:
iterations to scope and configure

with incremental builds and tests of solution configuration, extension development and integration setup

perform Business Process Testing with test sequence implementation, integration and end-user
OCM Delivery and Monitoring
QAS preparation and set up to support data migration activities and integration tests
PROD deployment
Solution Builder (Transaction /SMB/BBI) tool to import, select or activate scope in S/4HANA RISE private cloud editions (PCE).
Activate Public Cloud Realize - New Implementation
Main characteristics of S/4HANA Activate Public Cloud new implementations are standardization, fully mobilization and scalability.
SAP Public Cloud Central Business Configuration
Guided Central Business Configuration, for S/4HANA public Cloud new implementations, provides an assisted way to adapt SAP Best Practices
from initial solution configuration
recording of updates for continuous innovations
testing of configured business processes
data migration options to evaluation of activated business processes and country versions
S/4HANA public cloud expert configuration has to be requested by SAP:
make changes to standard available configurations of existing business processes
build business processes, that are specific to customer's business needs
SAP Central Business Configuration (CBC) is part of the SAP S/4HANA Cloud Set Up. CBC structures projects into lifecycle phases with specific activities and milestones.
Activities to be done directly in productive systems:
setting up business roles
assigning permissions
setting up integrations
migrating data
activating of features available via New Continuous Feature Delivery (CFD)
S/4HANA Activate Business Process Testing
Business Process Testing gets prepared by the Application Design and Configuration workstream in the Explore phase with a Test Strategy. Testing takes place in project (Realization, Deploy) and upgrade (Run) phases with different test types:
Test Type | Description | Phase ---|--- Unit Test | single piece of functionality | Realize String Test | combination of unit tests | Realize Implementation Tests | configuration experts test correctness of configured business processes | Realize Integration | validate functional correctness and data integrity across end-to-end processes as part of the realize phase | Realize End User Acceptance | check day-to-day business scenarios at the end of the realize phase to confirm gaps are closed | Realize Regression | confirm new functionality of upgrades does not cause defects in existing functionality in the run and operate phase | Run
S/4HANA Public Cloud Test Apps
Exklusively for S/4HANA Cloud, SAP provides the following Fiori Apps for test processing. Automated test can be triggered by CALM for Operations or S/4HANA Cloud Test automation.
Manage Your Test Processes

to add business users as test users and assign mandatory DEFAULT role
leverage pre-delivered standard test processes
create custom test processes from scratch or as copy of a standard test process
optionally allow SAP to execute Post Upgrade Tests (PUT)

Test Your Processes

to create test plans with test processes
manage test plan variants
perform tests - execute test plans

Analyze Automated Test Results after post-upgrade or customer tests

default status of tests with executed processes displayed
drill-down to process step details
Solution Manager Test Suite
Business processes are documented in the Solution Documentation component of SAP Solution Manager. Test plans are sets of test cases defined for solution, branch and scope.
test configuration contains system data container, test data container and test script
a test case is the assignment of test configuration to a structure node in the system documentation
test script describes the components and sequence of activities that are to be tested
S/4HANA Cloud Activate Deploy and Run
Common functional, project management and linked technical key activities in Deploy and Run phases:
(preferred automated) regression tests after system upgrades
S/4HANA PCE Activate Deploy and Run
Deploy phase
Run phase
ongoing system operations
enable continuous adaptions
regression testing after upgrades applied to quality system
S/4HANA Public Cloud Activate Deploy and Run
Deploy phase is available only in CBC implementation project.
Required customer activities to maintain SAP S/4HANA Cloud systems post go-live include:
regression testing on business processes
activating of applicable new scope
maintaining business catalogs.