The Enterprise Asset Management (EAM) and Project System (PS) processes described on this page are integrated with SAP S/4HANA. Some other end-to-end processes are:
S/4HANA EAM PS Business Process Integration
SAP S/4HANA Enterprise Asset Management (EAM)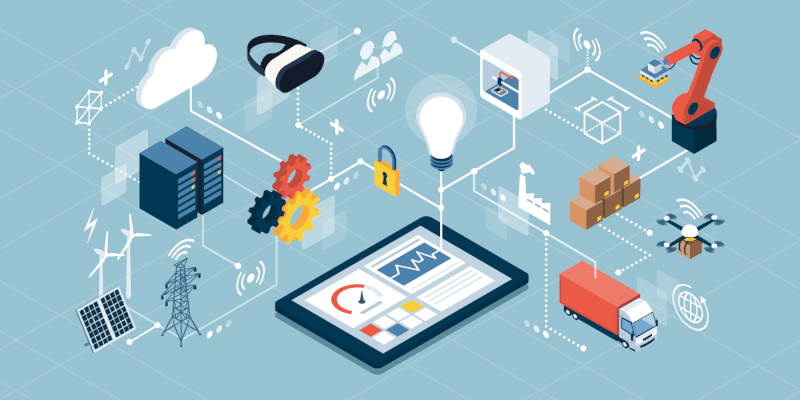 EAM Organizational Structure
Planning and maintenance plants are the most important organizational EAM units. The planning plant is responsible to plan all maintenance activities. Technical objects like (functional locations, equipments, serial numbers) to be maintained are part of the maintenance plant.
EAM Master Data
EAM functional locations structure technical systems hierarchically indicated with a edit mask. Structure criteria are spatial, functional or technical information configured with categories, classes and object types.
Functional locations represent areas or building where equipments are installed. The master data includes general (e.g. object type), location (e.g. production work center, ABC indicator), organization (e.g. company code, cost center) with responsibilties (e.g. planning plant, planner group, responsible persons or machines as main work center) and structure information.
Functional locations offer options to track maintenance activities or costs and perform analytics like likelihood of damage for installed equipments with location conditions.
Equipments are individual physical objects which can be maintained as autonomous units and monitoring options for costs or usage. Equipments are synchronized with financial accounting fixed assets.
Serial numbers enable uniquely identifying and tracking of materials in inventory or equipments in maintenance processing.
Categories divide BOMs according to their reference into material, equipment, functional location or document BOM. The equipment construction type identifies a material with assigned BOM.
EAM Notification and Order Documents
Notifications report malfunctions or describe problems of technical objects and request maintenance activities (e.g. repair). Notifications are defined by notification types (e.g. malfunction, maintenance) and with information about location data, items (with problem details like damage code, location, reason) and activities to document tasks (work to be done).
Maintenance orders record performed operations, used components and costs. Maintenance order components are reservations needed for processing. Checks ensure the availability of these spare parts. Automatic creation purchase requisitions (never, immediately, release) for non-stock materials is controlled by order type.
Released maintenance orders become cost objects. Reservations of released orders can be fulfilled with confirmations and goods issues. Planned and actual maintenance costs are assigned to orders and settled to receivers (like cost centers or WBS elements) with rules.
Maintenance order operations contain information about control key, work center, cost center with activity types, time, salary, assignment of moveable production resource tool (PRT, like documents, drawings, instruments).
The overall order completion confirmation offers options to enter working time or measurement values.
Project System (PS)
Project Structure
Work Breakdown Structure

contains WBS elements arranged hierarchically to manage costs, budgets and dates

WBS Elements

aggregate dates and costs of assigned activities
activity funds are checked against the WBS budget
operative indicators define characteristics and tasks to be executed

planning element to plan costs and revenues manually
account assignment element to post actual costs and commitments
billing element to post revenues
statistics indicator

Activities to plan resources

show project flow and tasks
tasks are linked together into networks
quantities used for planning are dates, costs, resources, material requirements
activity categories are internal or external processing, services, cost

networks are precedence diagrams of activities
texts and DMS Info Records can be assigned to WBS elements or activities
actual costs are posted against the project with GI, GR, IR, confirmation and activity allocation
Availability control

to analyze used budget
determine if project costs can be increased
Planning Projects
Resource Planning
facets: resources, dates, materials, revenue, costs, payments
assign human resources

internally processed activity

work centers with machines or personnel
work, duration, activity type has to be defined

externally processed activity

via procurement
provided by other companies
with goods receipts or service entry sheets
services can use

a hierarchy of planned services
a value limit for unplanned services

scheduling

networks are always scheduled forward and backward to determine earliest and latest dates
total float as difference between earliest and latest date
assign time events to activities and use traffic light to control compliance with planned dates

Settlement allocates actual costs of projects, WBS elements, networks, activities to receivers
Executing Projects
posting actual costs

GR, GI, IR, activity allocation, confirmation