Well-architected Digital Supply Chains implement intelligent Design-to-Operate processes, with integrated hybrid multi-cloud SAP Manufacturing, Warehouse Management and Business Planning solutions:
Design-to-Operate SAP S/4HANA Digital Supply Chain Cloud
The SAP S/4HANA Intelligent Enterprise is the central part of end-to-end Design-to-Operate processes based on the SAP Digital Supply Chain.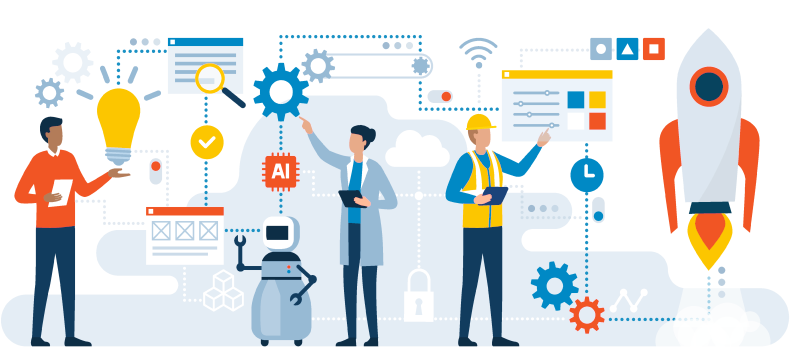 Design-to-Operate processes are composed of SAP Digital Supply Chain sub-processes from product design to asset operation:
Idea to Market incorporates concept and requirement definition, product design and handover to production
SAP Digital Supply Chain Plan-to-Fulfill (P2F) composed of planning, manufacturing and logistics
Acquire to Decommission describes the lifecycle of digitally connected assets which provide real-time insights for predictions, simulations and collaboration
Resilient SAP Digital Supply Chain architectures and implementations move intelligent Design-to-Operate processes from functional silos to agile, digital connected hybrid multi-cloud environments.
Digital supply chain environments make physical goods movements, assets or business documents visible as Digital Twins and enable collaboration of connected business partners within business networks.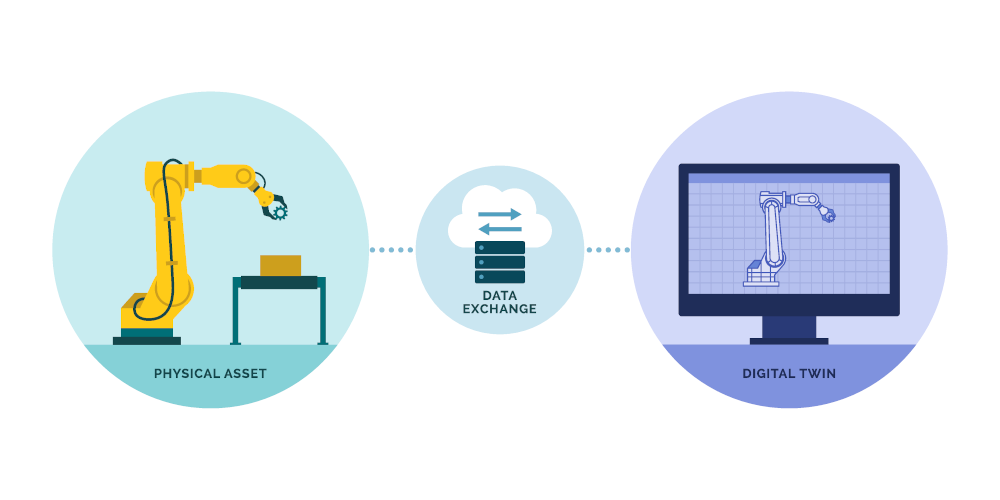 Integrated end-to-end business planning uses information provided by Digital Twins to support all product lifecycle phases with data-driven decisions.
SAP Digital Hybrid Multi-Cloud Innovations
Data-driven SAP S/4HANA digital supply chain processes implement innovations with emerging technologies like cloud services, IoT, AI Machine Learning (ML), RPA or real-time tracking to improve business decisions and automations. The information about business changes can be transferred, to all involved business partners within SAP Digital Supply Chain networks in real-time, with advanced communication patterns event-based, with notifications or handled by situations.
SAP Digital Supply Chain AI/ML Scenarios
AI Machine Learning (ML) scenarios with predictions and automations enable intelligent SAP S/4HANA Design-to-Operate processes implements. SAP S/4HANA offers ready-to-use AI Machine Learning (ML) scenarios within the core system and custom AI/ML extensibility options on the Business Technology Platform (BTP).

Examples of SAP S/4HANA Digital Supply Chain AI machine learning (ML) scenarios are:
AI-based Predictive Maintenance to predict failure or anomaly propabilities with AI/ML techniques e.g. with Digital Twin IoT technologies combined with SAP S/4HANA Enterprise Asset Management (EAM) and SAP Asset Performance Management - Asset Health
optimized packaging to realize sustainable efficient processes with reduced waste and increased recycling
predicted new delivery dates for stocks in transit which already have exceeded the planned delivery date (20N)
S/4HANA predictive MRP (Scope Item 4B5) for demand driven buffer level management (1Y2) with DDMRP or Demand Driven Replenishment (2QI)
improved quality management in SAP Digital Manufacturing Cloud with Visual Inspections
automatic proposals of best matching defect codes in the Record Defects app. The classification of the entered text is implemented with a k-nearest neighbor (kNN) algorithm on a model with texts of saved defects
the S/4HANA Intelligent Scenario for Damage Code and Object Part Prediction
SAP Digital Supply Chain Situation Handling
Predefined SAP S/4HANA Situation Handling templates for Manufacturing and Supply Chain use cases (with Fiori ID/ Scope Item):
Production Defects in the Perform Operation Activity app (F2898, 2022 S/4HANA PCE only) notify with predefined setting Extended Production Operations (EPO) team members
MRP Material Exceptions (F0251/J44)
Manage Customer JIT Calls (F6077/F4961/2EM) notify Material Planner of part supplier about near planned delivery
Multiple Matches Alert in aATP Supply Protection (F4569/1JW) triggered when one document (sales or stock transport order) consumes with different characteristics from more than one protection group which reduces the protection multiple times (once per match)
Stock Transport Order Overdue informs about goods receipts with delays (F2139, BMH)
Physical Inventory Monitoring to inform about items which exceed the defined physical inventory tolerances (F0379A/BML)
Handling Unit IoT to monitor sensor based Digital Twins (F4557/4IH/4MM, 2022 S/4HANA Public Cloud only)
Custom situations in digital supply chains can be implemented with the S/4HANA extended situation framework to react on e.g. modifications of asset or material master data.
BTP Intelligent Situation Automations can be implemented e.g. for Production Defects with business rules to inform production operators with mobile push notifications based on specific criteria or to perform analytics on defect handling.
SAP Digital Supply Chain Process Automation
SAP BTP Robotic Process Automation (RPA) is a solution to automate repetitive tasks in supply chains with intelligent digital bots. Some Digital Supply Chain use-cases and predefined content of the RPA bot store are:
check vendor delivery confidence and handle exceptions with email notifications including recommended actions
autonomous part replacement
modifications of SAP documents or master data like process or production orders, confirmations, goods movements, deliveries, business partner, products with Excel data
update of shipment status with information of real-time tracking system or APIs/websites of transportation company
Hybrid Multi-Cloud Digital Supply Chain Architecture
Hybrid multi-cloud architectures enable companies to build scalable and resilient digital supply chain management systems. Best practice architectures handle the increasing availability of information and turn data into value.
Multi-Cloud architectures integrate cloud services for e.g. data management, analytics, machine learning or process automations from multiple platforms like SAP BTP or Microsoft Azure. Hybrid multi-cloud architectures integrate supply chain processes vertically with cloud services and on-premise shop floor systems.
SAP Digital Supply Chain offers cloud solutions like S/4HANA Cloud, SAP Integrated Business Planning (IBP) and SAP Digital Manufacturing Cloud (DMC) with implementation best practices for integrated hybrid deployments.
Some examples of hybrid multi-cloud Digital Supply Chain with SAP solutions are:
the integration of Hyperscaler services to to extend digital supply chains e.g. for Digital Manufacturing
connecting SAP IBP with Hyperscaler multi-cloud data storage services via CPI-DS for bidirectional integration scenarios
SAP Digital Supply Chain Plan-to-Fulfill
Plan-to-Fulfill (P2F) is the Design-to-Operate sub-process which describes the journey of product-related information with three stages:
Digital Supply Chain Planning with SAP IBP, S/4HANA ePP/DS or MRP
SAP Digital Supply Chain Manufacturing processes with scheduling, producing and receiving of subassemblies or finished products
S/4HANA Digital Supply Chain Logistics with delivery and outbound transportation
SAP Digital Supply Chain Manufacturing
Integrated SAP Digital Supply Chain manufacturing systems offer real-time insights based on acquired data with visualized resource availability, analytics and reporting. These insights allow data-driven production scheduling to react fast on changing demands.
Production Order Processing
Production orders are digital business documents which contain all information to plan production processes. They have to be exchanged between integrated supply chain systems.
Releasing production order starts manufacturing processing and triggers the creation of related material, accounting and controlling documents to perform material movements with related financial operations. Production orders become cost objects for consumption (expenses) postings of actual material costs during the manufacturing process.
Three main steps in digital supply chain manufacturing execution are:
Material withdrawal (goods issue) with staging for production reduces order reservations and updates the stock in staging areas (PSA)
Production order confirmation report status changes of operations. Confirmations on operation or step level enable finer tracking of the production process. They can be combined with automatically goods issues (backflash) of components to production. The order confirmations update actual order costs and WIP determination
Final product order confirmations trigger goods receipt of finished products or subassemblies from production(with movement type 101). Productions costs get settled to receivers defined by rules. Production order variances get calculated to analyze differences between actual and standard costs
Hybrid Multi-Cloud Digital Manufacturing
S/4HANA Digital Supply Chain, SAP Digital Manufacturing Cloud and Hyperscaler cloud services can be integrated hybrid multi-cloud architectures. These supply chain solutions solve individual manufacturing business requirements like 24/7 availability, support of large production facilities or scalability.
Supply chain cloud and on-premise environments offer complementary features. Cloud solutions are scalable to process changing data loads with high availability defined by SLAs. But cloud services can't guarantee 24/7 availability with consistent transfer rates and response times for critical manufacturing processes.
Manufacturing Cloud edge deployments of mission critical components can increase the availability of manufacturing environments, with failover scenarios running production processes offline on-premise on the shop floor.
SAP S/4HANA Digital Supply Chain Logistics
SAP Digital Supply Chain Warehause Management
SAP warehouse management systems control goods movements like staging to production, transfer of finished products or subassemblies.
Digitalization automates and accelerates warehouse processes with integrated systems or assets e.g. to automate bookings with IoT realtime tracking systems or work paperless with mobile apps.
SAP offers digital supply chain warehouse management solutions embedded in S/4HANA or as side-by-side installations. SAP Extended Warehouse Management (EWM) is the strategic warehouse management solution which offers integration options e.g. with other S/4HANA Digital Supply Chain modules (e.g. TM, QM) or cloud solutions like DMC.
SAP Digital Manufacturing Cloud (DMC) EWM Integration
Cross-order staging with the DMC Material Staging 2.0 app enables the advanced SAP Digital Manufacturing Cloud (DMC) EWM Integration scenario to supply components to production supply areas (PSA) to be used by any active production order.
Goods Receipt from production is another SAP Digital Supply Chain DMC EWM Integration example which starts with a packing unit as input of the Goods Receipt HU, followed by a inbound delivery created in EWM and finalized with the Goods Receipt for the production order in S/4HANA.
With MES-Driven Staging the process is planned with a staging request in Digital Manufacturing Cloud (DMC) mapped to the EWM warehouse request of internal stock transfer type. The staging progress with status of the EWM warehouse tasks is visible in DMC and EWM.
S/4HANA Transportation Management (TM)
S/4HANA introduced the transportation modules Basic Shipping (as successor of LE-TRA) and Advanced Shipping. Advanced Shipping offers optimizers like Vehicle Scheduling and Routing (VSR) to find the best way for a route with stops, Load Optimizer to arrange pallets or packaged based on master data settings.
Vehicle Scheduling (VSS) optimizes times considering available time windows, vehicle availability, operating times and scheduling directions. Embedded Scheduling is available for Basic Shipping with almost same functionality as VSS, but does not support customizing of scheduling constraints.
S/4HANA Transport Management implements the TM-EWM integration simplified with a single Freight Order object. Furthermore, Advanced Shipping & Receiving (ASR) outbound processing is improved by automatic consignment building and delivery split functionalities.
Unified package building (UPB) acts as generic layer for packaging specifications, packing instructions and package builder engines. UPB is used by TM, EWM (e.g. Synchronous GR PO) and Logistics General (LO) S/4HANA components.
Unified package building is integrated in EWM inbound delivery processes with apps (Create/Change Inbound Delivery) and RF transactions (Unloading, Receiving Handling Units) with packaging materials proposals.
Digital Supply Chain (DSC) Management for SAP S/4HANA
SAP S/4HANA DSC integrates supply chain planning, manufacturing and logistics modules. SAP EWM, SAP S/4HANA ePP/DS, SAP S/4HANA PEO, Transportation Management (TM), Yard Logistics and eSPP can be deployed in-stack or as side-car with S/4HANA on-premise or PCE with same code line.

S/4HANA DSC offers synchronous and asynchronous options to integrate other digital supply chain solutions like IBP or DMC.
Some integration highlights are synchronous OData APIs for planning data, orders (planned, production, process), confirmations and PIR. Asynchronous integrations with SOAP messages (manufacturing orders) or business events (production or process orders, products, product allocations).
Production Engineering and Operations (PEO)
PEO comprises production engineering and production operations business areas.
Some PEO high level characteristics are:
Production engineering:
bridges the gap between source BOM (PLM EBOM, Shop Floor MBOM) and manufacturing (MBOM)
handles change management seamlessly, with versions and release status, to control changes from engineering to manufacturing
offers digital representations as 3D visualized BOM and animated work instructions
Production Operations:
offers production process planning features like planning routings, shop floor routings workflows
controls manufacturing with operations and activities similar like MES on shop floor
controls work with work center and personal queues
integrates tightly with Quality Management, Defect Handling and Monitoring integration
SAP Digital Supply Chain Asset Management
SAP Digital Supply Chain Asset Management solutions improve asset performance and maintenance. The visibility of digital real-time insights enables supply chain process automation.
Some automation examples are:
real-time tracking of assets with bookings in SAP
detected asset problem or failures create service or maintenance notifications
SAP Intelligent Asset Management (IAM) offers cloud-based solutions to manage asset supply chain lifecycles digitally.
Asset Intelligence Network (AIN) offers shared data within asset networks to enable collaboration and data-driven decisions of business partners based on the Asset Central Foundation data layer.
SAP Asset Performance Management (APM)
SAP Asset Performance Management (APM) is a SaaS BTP solution with Asset Strategy and Asset Health capabilities. APM is seamlessly integrated with SAP EAM with synchronized master and transactional data. Furthermore, SAP GUI transactions offer an Asset Central tab on equipment, functional location and notification level.
AI-based Predictive Maintenance is the part of Asset Performance Management which predicts maintenance and service needs to reduce downtimes by applying advanced analytics and machine learning on IoT data.
Failure modes describe how pieces of equipments can fail with type (e.g function not obtained - lost - out of limit or non-critical failure), subclass (e.g. Power Transformer inherits from Transformer class) and one or more categories (e.g. breakdown, vibration, start failed).
Equipment Health Indicators represented by a health curve with health conditions of equipment over time vizualize decreasing health for downtime planning.
The Machine Learning Engine provides Model Management for Health Indicator Data Sets, Failure Mode Analytics and Leading Indicators together with some configuration and validation capabilities.
SAP S/4HANA Enterprise Asset Management (EAM)
SAP S/4HANA Enterprise Asset Management (EAM) offers demand processing, maintenance planning and execution capabilities. These capabilities enable maintenance end-to-end processes structured into 9 phases which simplifies the status management and progress tracking. Each of these phases is assigned to one individual role.
Scope items for Reactive (4HH), Proactive (4HI), Improvement (4VT), Operational and Overhead (4WM) provide best practices to guide users along the process.