This SAP S/4HANA Intelligent Enterprise Architecture Digital Transformation overview page is related to Cloud Architecture and Technology
and SAP Digital Supply Chain topics
SAP Signavio Digital S/4HANA Business Process Transformation
Digital SAP S/4HANA business process transformations can be accelerated with the SAP Signavio Business Process Transformation Suite to build Intelligent Enterprise Architectures.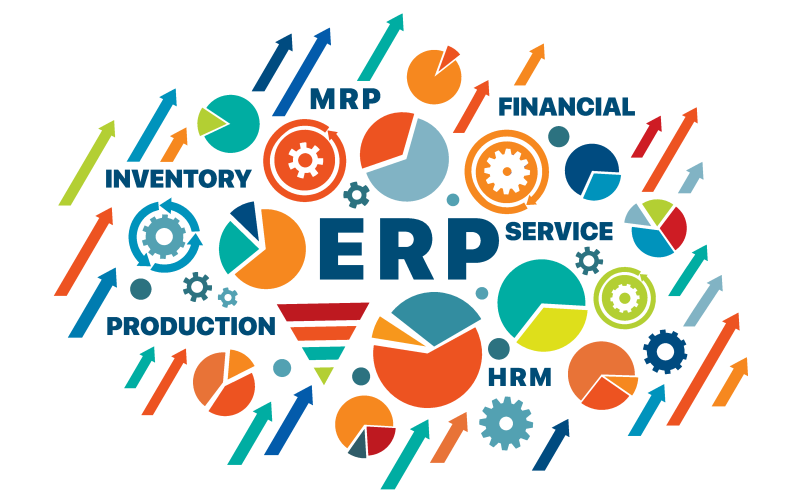 Intelligent cloud ERP systems implement automated end-to-end business processes with artificial intelligence and predictive analytics, to take over repetitive tasks. This automation allows human to be more productive and to focus on higher value tasks.
SAP Signavio Business Transformation Suite
The SAP Signavio Business Transformation Suite is a cloud-based platform to realize successful business transformations from business strategy to execution.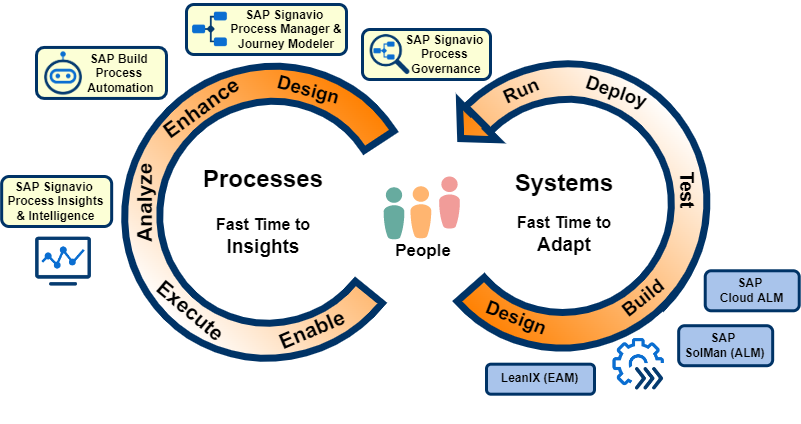 Dimensions of business transformations with SAP Signavio are Business Strategy translated into well-defined processes for value-adding operations, systems leveraging technology innovations with automation capabilities and people collaborating in agile teams.
SAP Signavio Business Transformation solutions support all business process management phases to align business with IT, translate business processes to systems and realize operations to meet customer needs.
Business process analysis with Signavio Process Insights and Signavio Process Intelligence enables process analysts to quantify value of as-is processes and validating value-add over end-to-end BPM processes.
SAP Signavio Insights offers summarized top areas of improvements with correction and innovation recommendations for existing SAP systems. Data-driven process mining of as-is business processes is based on usage data, performance indicators (KPI/PPI) and comparisons of industry benchmarks against peers. SAP Signavio fast time to Insights allows start improving right away with narrowed focus on really issues, most relevant functionalities and enterprise automation options.
Process mining with Signavio Business Process Intelligence discovers the gap between designed processes and actual performance to drive Business Process improvements. Standard connectors, standalone connectors and API interfaces integrate data sources with ETL data pipelines defined in data models. Data transformation scripts implement rules to collect events and case attributes into logs which are used for business process analysis with SAP Signavio Process Intelligence investigations.
SAP Signavio Process Intelligence analysis can be structured with investigations and chapters based on basic elements like events and attributes.
Events as activities for specific business objects specified by case ID, activity name and timestamp
Event collectors scripts to transform data into a event log
Attributes to define further event characteristics
Cases as end-to-end instances of one process execution
SAP Signavio Process Intelligence analytical widgets provide different views on business data and diagrams, imported or designed in the SAP Signavio Process Manager Workspace as Customer Journey Maps or process diagrams.
SAP Signavio Value Accelerator
Value accelerators are available for SAP Signavio Process Insights, Signavio Process Intelligence and Signavio Process Manager stored in the dictionary. Leveraging this best practices content in the SAP Signavio Process Manager accelerates the adaption of business processes in implementation phases of S/4HANA transformation projects. Fit-to-standard explorations can compare diagrams of as-is and to-be processes to implement improvement innovations immediately based on these insights.
SAP Intelligent Suite Qualities
S/4HANA Enterprise Management is the simplified core of the SAP Intelligent Enterprise for all business critical processes. S/4HANA is natively build on SAP HANA and designed with Fiori UX.
Intelligent ERP Cloud Suite Qualities are target characteristics, with interdependencies between each other:
aligned domain model for business objects across applications
implementable end-to-end process blueprints as S/4HANA Intelligent Enterprise Architecture design references
seamless UX implemented consistent across cloud and on-premise apps with access from central launchpad.
The harmonized look & feel with Fiori design language provides navigation patterns (e.g. product switch via shell bar) and coherent designs (action placement, behavior, colors, icons and widgets).
Further features are role-based access, customizing options for developers via APIs or key user UI adaption, personalization for end users (like changing order of table columns or format of dates and numbers)
one workflow inbox is available as Task Center for SAP SaaS solutions or My Inbox for BTP Workflow Management to enable central task management with a unified view of approvals across multiple applications on object level e.g. purchase order, invoice
consistent security and identity management

central SAP BTP Cloud Identity Services with identity management, provisioning & authentication
consistent way of enabling Single Sign On (SSO)
central cloud platform audit log service for security relevant events
central, multi-cloud enabled key management with customer managed key option
central business user role management with SAP Cloud Identity Access Government (IAG)
central personal data management compliant with data protection laws and regulations

coordinated lifecycle management (Cloud ALM) with

automated provisioning and integration setup for SAP applications with the Cloud Integration Automation service
integrated monitoring experience with SAP Cloud ALM
monitoring on-premise with SAP Focused Run (FRUN) and cloud-centric with SAP Cloud ALM for operations (CRUN)

embedded and cross-product analytics using SAP Analytics Cloud (SAC) delivers predefined content packages for data enrichment
These suite qualities reflect the priorities of SAP customers and give the way for integration-related development.
S/4HANA Intelligent Enterprise Architecture
S/4HANA Intelligent Enterprise Architecture work products are implementable visualizations of end-to-end business processes:
Business Process Value Flow Diagrams provide an overview of the collection of value adding business activities
Scenario Implementation diagrams facilitate software solution validation, testing and operation

Software Collaboration Diagrams are based on the BPMN standard and specify the collaboration details of components
Solution Component Diagram are high-level architecture blueprints with boxes for solution components and communication channels
Data Flow Diagrams describe the flow of master, transactional and configuration data between
SAP BTP Cloud Identity Services
SAP Cloud Identity Services currently consist of Identity Authentication Service (IAS) and Identity Provisioning Service (IPS).
Identity Authentication Service (IAS)
SAP's strategy is to deliver its cloud solutions pre-configured with IAS as single authentication point.
IAS offers three application types:
System applications (Administration Console, User Profile)
Bundled applications are managed by SAP for Cloud Solutions like S/4HANA, SuccessFactors, Analytics, Sales, Concur, Ariba etc.
Custom or charged applications
IAS user groups allow to implement conditional access to IAS applications and to limit IPS identity provisioning to specific user groups by adjusting the source transformation for IPS.
Identity Provisioning Service (IPS)
The goal of the Identity Provisioning service is to sync user data between SAP cloud solutions. Identities are centrally managed by IDP based on SCIM (System for Cross-Domain Identity Management) APIs with unique, immutable user IDs (UUID).
SCIM roles
clients are usually IDPs with identities
SaaS apps are service providers authorize identities
UUIDs are unique in the SAP Cloud Identity Directory and enable SAP cloud solutions to identify users correctly. SAP Task Center relies on these UUIDs to correctly assign tasks to specific users.
IPS supports three connector types:
source systems read entities (users, groups, roles) from user stores
target systems allow writing (provisioning) entities to SaaS apps
proxy mode for "hybrid" scenarios. IPS exposes supported non SCIM-based systems as SCIM 2.0 service provider. SCIM clients perform provisioning operations (create, update, delete) via the proxy
S/4HANA Cloud Integration Scenarios
SAP S/4HANA Cloud Editions provide SAP BTP Integration Suite 0ut-of-the-box, Open, Holistic and AI-driven integration scenarios. Open integrations are based on Open Connectors, holistic ISA-M integrations are built on services like SAP Cloud Integration or SAP HANA Data Management Suite and AI-driven Integrations use e.g. the SAP Cloud Platform Integration Advisor service crowd-based machine learning approach.
0ut-of-the-box cloud to cloud integrations can be implemented template-based with pre-packaged cloud integration content or as managed CIAS integration. Cloud Integration Automation Service (CIAS) task based procedures in Maintenance Planner offer guided workflows (automated, semi-automated or manual tasks) to integrate SAP cloud solutions with SAP Best Practices. Integration components offered by CIAS are type systems, custom messages, message implementation and mapping guidelines, runtime artifacts and support.
Designing integrations with a cloud mindset, starts with exploring the Best Practices integration processes first. In cases without available best practice process, custom implementations shall be implemented with standard API Business Hub templates or APIs and SAP BTP Integration Suite services.
The support of hybrid landscapes will be enhanced with the Edge Integration Cell (general availability planned 2023) as a lightweight deployment option for SAP Cloud Integration to enable SAP Process Orchestration migrations.
S/4HANA Cloud Communication Management
S/4HANA Cloud Communication Management offers apps to enable the integration with other systems.
communication users will be created with authentication type (basic, certificate), assigned to communication systems and then used within communication arrangements
predefined or custom communication scenarios bundles design-time artifacts of inbound or outbound communication with supported authentication methods
communication systems are configured with the technical data (like host, port, authentication type) of the connected system and assigned technical user
communication arrangements are created with a communication scenario as input, a communication system as common data and assigned communication users for input or output communication
The Fiori App Display Technical users offers features like changing names of passwords of some types of technical users and lock or unlock technical users e.g. communication, the initial user.
SAP One Domain Model
Intelligent business process integration is supported by the harmonized domain model. Domains structure the object model with namespaces (e.g. sales.s4) owned by applications. SAP Graph is the unified OData v4 API layer to access these objects.
Domain driven designs include master and transactional data shared between many applications.
The SAP Business Technology Platform Master Data integration service (MDI) is a data replication engine for 1:n hub integrations. MDI seamlessly integrates cloud solutions like S/4HANA Cloud, SuccessFactors, Fieldglass, Concur. The Master Data Integration (MDI) adapter for SAP BTP Cloud Integration enables complex scenarios e.g. with external communication partners, mapping or pagination.
SAP Cloud Cross-Product Analytics
SAP Analytics solutions are powered by HANA in-memory, column-oriented database with faster query processing.
SAP Analytics Cloud SaaS offers cross-product analytics with live and acquired (import) connections. Live connections are available for e.g. S/4HANA Cloud, SAP Data Warehouse Cloud, SAP Marketing Cloud. Acquired connections are offered for other SAP SaaS (e.g. SuccessFactors, Concur, Fieldglass, S/4HANA, HANA), On-premise Solutions (e.g. S/4HANA, ECC, BW, HANA) and non-SAP solutions e.g. via AWS S3 open connector.
Embedded Analytics powered by SAP Analytics Cloud (SAC) is a embedded SAC version in SaaS applications like S/4HANA Cloud, People Analytics for SuccessFactors etc. Business users benefit from dashboards (stories) embedded to support real-time decision-making within different business processes.
Analytics specialists can copy pre-built dashboards with the Manage KPIs and Reports app to customize these dashboards to their needs.
S/4HANA Embedded Analytics capabilities run on the integrated analytical engine and combine analytical (OLAP) with transactional processing (OLTP).
BTP embedded SAP Analytics Cloud (SAC) CPEA Edition enables Side-by-Side analytics with limited scope compared to the SAC Enterprise edition.
The SAP Fiori UX offers templates and floor plans to visualize analytics within charts and diagrams together with transactional processing.
S/4HANA Intelligent ERP Core
S/4HANA builds the core of the intelligent end-to-end business processes with digital age UX, embedded predictive analytics and automation capabilities.
The Intelligent S/4HANA UX helps users to automate routine work with data-driven suggestions based on insights and conversational AI interactions. S/4HANA implements several intelligent approaches with notifications, alerts, (ranking of) proposals, predictions, forecasts, situation handling and conversational UI.
The embedded Intelligent Scenario Lifecycle Management (ISLM) enables the realization of analytical use cases like rankings, categorizations and predictions with classic algorithms such as classification, clustering, or regression are sufficient for the implementation.
New business models can be implemented as intelligent automation of repetitive tasks, to enable employees focus on high value tasks. SAP S/4HANA Intelligent Enterprise Technologies are enterprise ready (compliant with SAP shipment processes, product standards, certifications, controls) with responsible (ethical and legal) AI.
Embedded S/4HANA Machine Learning (ML) is suitable for moderate requirements with Predictive Scenarios, Intelligent Scenarios, Scenario Management apps. BTP Side-by-side implementations enable advanced scenarios with Artificial Intelligence (AI) services to interact with conversational AI or execute RPA workflows optimized with ML and self learning bots.
S/4HANA Intelligent ERP Situation Handling
Situations inform users about issues in business processes that require attention. Situation Handling utilizes Responsibility Management to define recipients of notifications. SAP offers templates for business use cases which can be adapted with the Manage Situation Types app.
The extended Situation Handling framework offers apps to create custom situation use-cases based on CDS views, events, actions & navigation target to related apps which support users to solve the issues.
Intelligent Situation Automation is a BTP service to extend situation handling for with automations based on business rules and analytics (currently 2022 not available for extended situations).
S/4HANA Advanced Availability-to-Promise (aATP)
Advanced Availability-to-Promise (aATP) is natively built in SAP S/4HANA Core and available in all deployment options e.g. S/4HANA Public or Private Cloud. aATP gets activated within the Availability Checking Group of the material master.
Main features offered by aATP are:
Product Availability Check (PAC) confirms requirement fulfillment in Sales and Distribution, Production Planning, Logistics Execution, Purchasing, Goods Movement processes
Product Allocation (PAL) sequences allocate specific quantities to e.g. regions or customers. Based on characteristics of sales and stock transport order documents or capacity restrictions in production or transport
Backorder Processing (BOP) considers uncovered demands of sales orders, with incomplete confirmed items or delivery dates. After demand or supply changes, availability and confirmations get checked. BOP runs can increase or decrease existing material confirmation for customers to solve availability problems. BOP segments and variants define priorizations, sorting and settings for requirements
Supply Assignment (ARun) is a check method in the context of Backorder Processing (BOP) which ensures optimal assignment of supply to sales or stock transport orders (STO)
Supply Protection (SUP) protects quantities of a material to prioritized demands
Object and Value Determination (OVD) is based on different combinations of business document characteristics
Alternative-Based Confirmation (ABC) can exchange originally requested delivering plant, storage location or product with an alternative. Product Substitution is available in case of e.g. improved product versions or unavailability. OVD can be used to control these substitutions
The Review Availability Check Results (RACR) screen provides detailed explanation of ATP results.
SAP S/4HANA Innovation Examples
SAP HANA is one key enabler for the SAP intelligent enterprise. The in-memory database performance allows combinations of transactional (OLTP) and analytical (OLAP) processing integrated within end-to-end business processes.
HANA Columnar storage enables denormalization of tables, which reduces the need for joining and increases faster processing with the HANA column engine. This denormalization comes with redundant column information, but without more storage consumption, because the repeated data is only stored once with relations to IDs. This storage technique reduces also the data footprint of the HANA database and enables faster aggregations.
SAP S/4HANA Simplification ltems
S/4HANA Simplification items consist of description, business impact, recommendations and SAP notes. The complete list of simplifications can be accessed with S-User logon to the Simplification Item Catalog
S/4HANA Organizational Structure
The following diagram shows the relationship between organizational units of the integrated S/4HANA business processes.

SAP S/4HANA Intelligent Enterprise Content Management (ECM)
Intelligent ECM builds the content foundation of the SAP S/4HANA Intelligent Enterprise with objectives such as the elimination of information silos, improvement of information based decisions, optimization of omnichannel user experience and better compliance alignment.
ECM solutions tightly integrate unstructured data with sap transactional processes e.g. by the automatically creation of relationships between unstructured information and structured transactional data. The related unstructured and structured data can be offered together in one Fiori app to enhance the user experience.
As single source of truth, they provide unified views on end-to-end business process content (like e-mails, offers, contracts, sales orders, delivery notes), categorized in folder hierarchies of the ECM system, and are able to support these processes with automated tasks, reminders, notifications or the implementation of document change and approval processes.
Further process improvements result of the collaboration with documents across applications like Microsoft Teams, Fiori Apps or other SAP Solutions like S/4HANA. Role specific business workspaces e.g. as Outlook plug-ins and dashboards enhance the customer experience across channels.
Automated Invoice Processing is one example of an Intelligent ECM use-case, where rules, machine learning algorithms and the automatically completion of missing information (e.g. Incoterms) streamlines the document processing. Also successor documents like confirmations of sales orders can be automatically created and sent to customers. Integrated ECM scan and capture features enable to assign paper documents and screenshots of digital information to structured transactional data.
Another example of intelligent ECM use-cases are IoT integrated digital twins, with performance data of assets or predictive analytics based on machine learning, can support field workers to perform proactive maintenance activities with repair instructions, images or videos.
Cloud ECM solutions often provide the choice to deploy on multiple cloud hyperscaler platforms, containerized with Kubernetes / Docker and cloud qualities like high availability, automated deployments and scalability.