SAP S/4HANA Intelligent Enterprise Architectures consider hybrid multi-cloud environments, end-to-end business processes, intelligent technologies and innovation aspects:
SAP S/4HANA Intelligent Enterprise Architecture
Modern SAP Enterprise Architectures integrate data-driven processes and workflows with artificial intelligence and intelligent SAP or non-SAP technologies. These technologies include intelligent SAP AI Machine Learning (ML) services for predictions or recommendation to enable qualified decisions and actions by business users or automations.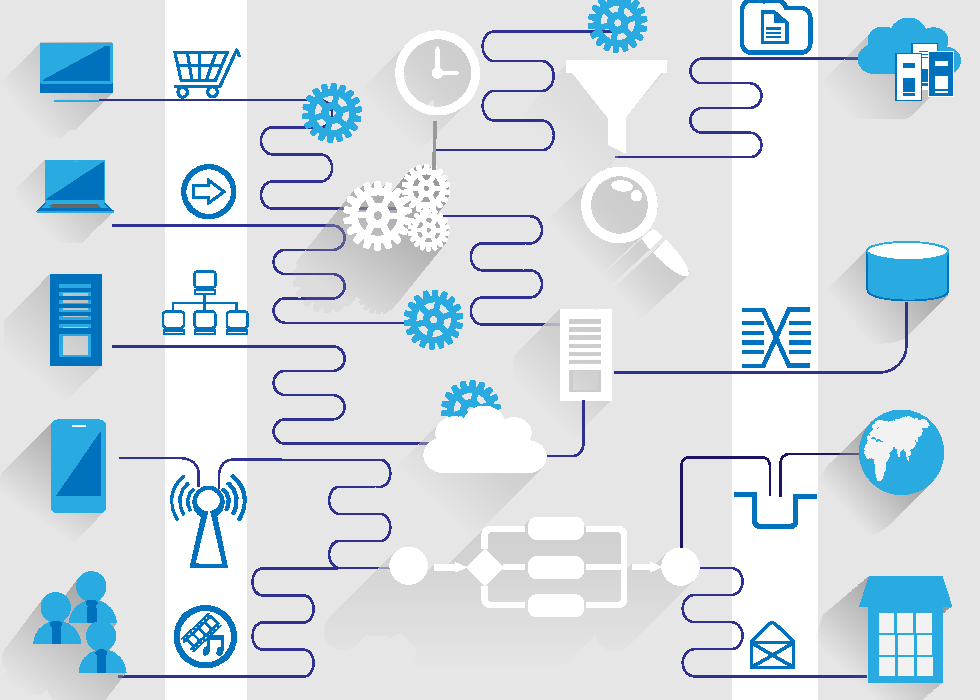 The hybrid and multi-cloud SAP Business Technology Platform (BTP) is the foundation of the SAP Intelligent Enterprise Architecture. BTP enables the alignment of business and technical layers across data and processes.
Data has become a valuable asset within companies e.g. for selling as complementary product or by integrating data points into SAP S/4HANA business processes for automation or decision taking.
SAP Enterprise Architecture development methods facilitate integrating hybrid multi-cloud environments. Agile methodologies (e.g. Design Thinking, SAP Activate) streamline collaboration. Modern design tools and frameworks (like tailored TOGAF) support designing enterprise architectures.
SAP Intelligent Enterprise Architecture Introduction
SAP Intelligent Enterprise Architecture development looks holistically on subsystems within the enterprise. Deliverables describe fundamental component structures and their relationships, also with external systems, and guide with principles the design and evolution over time.
The core use case of Enterprise Architecture Management in SAP projects, are non-local, often enterprise-wide changes i.e. SAP transformations.
Companies introduce SAP Enterprise Architecture (EA) in projects with some main goals
alignment between SAP end-to-end business processes and technology
reduce the complexity with integrated, intelligent SAP architectures
improve communication with a common vocabulary
document decisions and discussions
operationalize innovations with SAP intelligent technologies
with regard to their basic building blocks:
Vision as long term destination & Purpose why the company is on their journey
Business Operating Model defines roles with responsibilities and how the roles act together to deliver the purpose
Business Capabilities describe what the company is capable to do like Financial Accounting, Research and Development
Business Processes define how business capabilities are realized e.g. automated invoice verification
Applications & Technology covers the implementation of the business processes with standard products or custom development
SAP Enterprise Architecture Motivation
Strategic and operational excellence are goals to categorize architectural work
operational excellence is focused on

managing business and operational processes systematically, with bottom-line growth, based on efficient spending and managing operating costs

strategic excellence can be improved with top-line growth, for example with revenue of new sales channels.
Business and technology innovations can both be drivers of architectural work. Business driven innovations are divided into
disruptive innovations, exploring new business models, typically carried out in the area of strategic excellence
incremental innovations exploiting proven business models to improve operational excellence
Enterprise architecture use-cases like optimization or standardization of technology management and SAP S/4HANA business processes are more related to operational excellence. In contrast, business capability or innovation management have their focus more on the strategic excellence side.
SAP Enterprise Architecture Framework
Architecture frameworks such as TOGAF provide building blocks to design the target state of the enterprise with best practices and a standardized architecture development process. Typical deliverables, presented by work products like matrices, lists, diagrams of the development process, are
current (base) and future state (target) architecture
gap analysis with action items
roadmap with times, sequences and milestones
There's exactly one enterprise architecture, which can be displayed with different views and level of detail, depending on the purpose, with different types of diagrams such as Application Realization, Environment & Locations, Process or System Collaboration.
Architecture Development Method (ADM)
The ADM is the core component of the TOGAF framework and a process template for developing architectures, which divides the creation of architectures into phases. Work products are deliverables, describing the architecture of these phases in their context holistically and
enable communication between business and IT
support decision taking
act as foundation for implementation and operation
Phase A (Architecture Vision) establishes the project and initiates the ADM process. Main deliverable is the statement of architectural work with a high-level vision of the delivered capabilities and business values of the investment (project).
Phase B (Business Architecture) develops the target business architecture, representing the business capabilities in the context of the project. Work products describe how the enterprise needs to operate to achieve the business goals and how to align business with IT. Furthermore, architecture roadmap components, based upon gaps between the baseline and target business, have to be identified.
Phase C (Information System Architecture) combines data and application domain and describes the existing IT landscape from data and application perspective as base architecture. Work products deliver the target application and data architecture with diagrams (application realization, application use-case, solution concept etc.) and the conceptual data model, which describes how the information has to be processed.
Phase D (Technology Architecture) describes the target architecture from deployment perspective, considering technology components (hardware and software) and their relationships. The environment and location diagram is as typical work product, which groups technology components, including operating systems and network components, into deployment environments.
Other phases cover implementation aspects like Opportunities & Solutions (Phase E), Migration Planning (Phase F), Implementation Governance (Phase G) and Architecture Change Management (Phase H).
Architecture Content Framework (TOGAF)
The Architecture Content Framework enables the creation of consistent work products with guidelines and best practices. All available work product types are defined in the Content Metamodel.
Deliverables are contractually specified and relevant
Artifacts are work products such as lists (catalogs), matrices or diagrams

Sample artifacts are

Solution Concept diagram
Architecture Principles catalog
Stakeholder Map matrix

Building blocks are components represent combinations of artifacts categorized into

Architectural Building Blocks (ABB) are

related to the Architecture Continuum
technology aware and define what functionality will be implemented e.g. Data Fabric with frictionless access and sharing of data in a distributed network environment
capturing functional and technical requirements
directing and guiding the SBB development

Solution Building Blocks (SBB)

are related to the Solutions Continuum
define what products and components will implement the functionality
define product or vendor-aware implementation
fulfill business requirements

Continuum of building blocks classify artifacts from generic to specific

the Architecture Continuum illustrates architecture development from Foundation Architecture (TRM, SIB), Common System Architectures (III-RM), Industry Architectures (Retail Active Store, POSC) and Enterprise Architectures
the Solutions Continuum represents the implementations of the architectures at the corresponding levels of the Architecture Continuum from Products and Services, Systems Solutions to Industry and Enterprise solutions
Agile SAP Enterprise Architecture development
Agile thinking helps managing SAP architectures in a volatile, uncertain, complex and ambiguous (VUCA) world, to gain vision with temporary clarity and understanding, in this changing world, with VUCA antipodes. Agile EAM reduces the global coordination and control of leading SAP Architects, to become an enabler of transformation, with advised support and a more lightweight, less formalized, local and utility-centered approach.
The fundamental values of stability and sustainability remain valid, but they need to be adapted to the new requirements, such as short innovation cycles for technologies and business models.
Design Thinking adds a user centric view with creative mindset focused on UX to the Architectural Thinking ADM business and technology.
The acceptance for and the understanding of SAP Enterprise Architectures can be enhanced by involving more members of the enterprise in the architectural work, from users to business in Creative Thinking to business to IT in Architecture Thinking.
Establishing a broad architectural understanding to non-architects, enables different areas within the company, that are concerned with driving innovation, to make independent architectural decisions or evaluations for their SAP projects, but also stay compatible with the architectural framework with holistic and long-term considerations.
Agile SAP Enterprise innovation projects, which differentiate the business, require a rapid path to transform business ideas into values. In contrast to SAP projects, focused on operational excellence with focus on SAP core system maintenance, stability or efficiency. SAP Intelligent Enterprise Architecture development can handle different use cases with an IT of multiple speed layers.
Speed Layer 2 (Enterprise Mode) targets to improve operational excellence with proven business models, preserving stability and sustainability with compliance and standardization.
Speed Layer 1 (Pioneer Mode) performs sprints in agile SAP Intelligent Enterprise Architecture projects, exploring new business models with changing demands and new intelligent technologies. This layer enables exploration of innovate ideas with the concept of Minimum Viable Architecture, analogous to the concept of the Minimum Viable Product (MVP).
Based on the concept of the Last Responsible Moment (LRM), where reversible type 2 decisions are taken early to enable speed and non reversible type 1 decisions are taken as late as possible. Minimum viable architectures can ensure the compatibility to the operating, development and deployment environment, as preparation for operational excellence requirements like integration into existing SAP Enterprise architectures and security demands.
Creative thinking and architectural thinking are additional companion services for SAP Intelligent Enterprise Architectures, helping to operationalize innovation and to move the idea from speed layer one to speed layer two. Technical services are offered by the SAP Business Technology Platform to realize the architecture as result of the Creative Architectural Thinking process, to pull the idea from speed layer one to product market fit in speed layer two.
Lean SAP Intelligent Enterprise Architecture
Lean SAP Intelligent Enterprise Architecture is a tailored TOGAF toolkit, without ADM phases and own diagram types such as Use Case Blueprint, Baseline Solution Architecture and Solution Realization. SAP Intelligent Enterprise Architecture is focused on the specific areas of the Architecture and Solutions Continuum with Enterprise Architecture and Solutions building blocks.
The Enterprise Architecture toolkit also introduces a value discovery cheat sheet to identify and structure the architectural work, with relationships to architectural work products. Value discovery cheat sheets and Design Thinking Workshops are two approaches to identify a request for architectural work as prerequisite of applying the Lean EA toolkit for an EA use case. Associating the request for architectural work to an EA use-case category helps to understand the request.
| | | | |
| --- | --- | --- | --- |
| Statement of Architectural Work | Statement of Architectural Work / Solution Context | ABB of Solution Context | SBB of Solution Realization |
| Customer, product, employee, ecosystem, business capability | Usability, automation, decision support, reach extension | Modernization, extension, data silo reduction, increase self-service | SAP intelligent technologies like mobility, chatbots, machine learning, RPA, integration, new data points like IoT or analysis, low code tools |
Business Work Products for SAP Intelligent Enterprise Architecture
Depending on the driver, starting points of the architectural work are either strategy map for business driven SAP Intelligent Enterprise Architecture projects or baseline solution architecture for technology driven projects.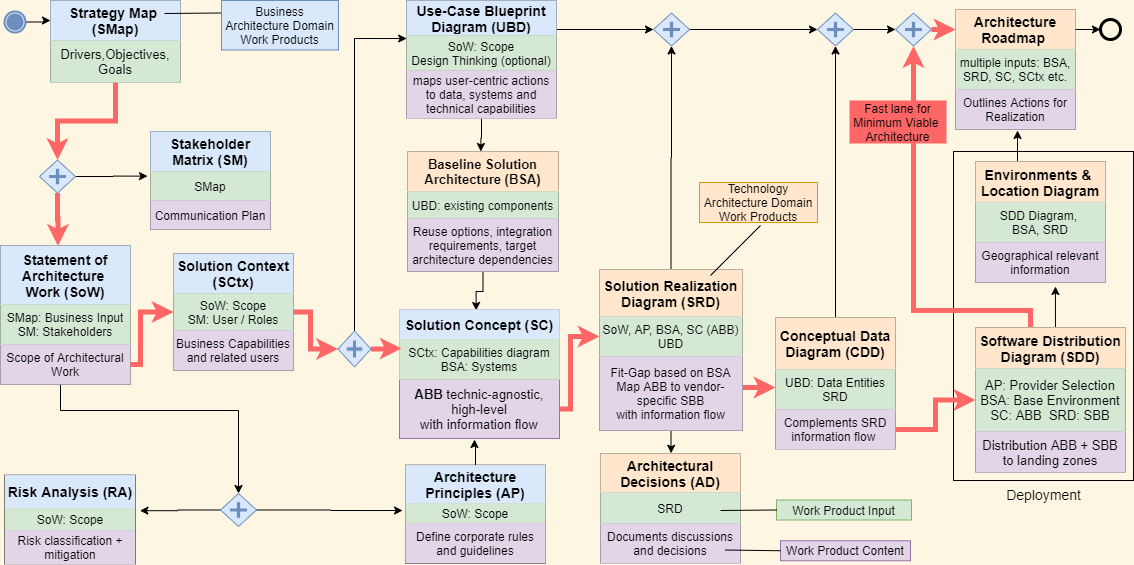 Strategy Map
Provides the SAP business context with vision, drivers and leading goals as framework for the strategy map. Structures the SAP business context with strategic goals and objectives, defined by executives or business units as drivers e.g. with Design Thinking methodology. Sources for the map can be internal strategy papers or external web sites.
The map explains why the SAP Intelligent Enterprise Architecture shall be implemented and outlines
the vision of the company like

"implement intelligent SAP ERP to improve customer satisfaction"

related to internal or external drivers like

customers
market share
improvement of market position with better products

leading goals examples are

cloud first
enhance digital offerings with better UX or additional SAP cloud services
become global market leader for specific product
| | | |
| --- | --- | --- |
| Strategic Goals | specific strategic intention or direction | new service for product line or improvement of the approval of innovation projects |
| Objectives | SMART formulation of the strategic goal | 25 % revenue increase or 50 % faster processing speed |
| Projects & Initiatives | other ongoing activities supporting implementing the strategic goals | data to value initiative |
Stakeholder Matrix
Communication plan to keep stakeholders involved, informed and able to raise concerns about the SAP Intelligent Enterprise architectural work. The matrix reflects the identification, analysis and categorization of stakeholders, which can be contributors, approvers or consumer of work products.
Name
interests of stakeholder
proactive communication with engagement types key player, keep satisfied, keep informed
type minimum effort with reactive communication
specific list of work products for sharing
Statement of Architectural work
The Statement of Architecture Work is typically the document against which successful execution of the SAP Intelligent Enterprise Architecture project will be measured. Row 1-3 describe the scope of the architectural work with business objectives, activities, roles and responsibilities, based on the business input of strategy map. Row 4-6 have project management characteristics.
| | |
| --- | --- |
| Title | <title> |
| Project request and background | <short description> |
| Project description and scope | <brief description> |
| Architecture Vision | High level overview of target architecture including diagram |
| Roles, Responsibilities, Deliverables | <list of stakeholders or new roles> |
| Acceptance Criteria | list of measurable criterias |
| Project Plan | main milestones and schedule |
Architecture Principles of the SAP Enterprise Architecture Project
Architecture Principles define to be considered corporate rules, constraints and guidelines relevant for developing the SAP Intelligent Enterprise Architecture.
| | |
| --- | --- |
| Name / ID | <name / ID> |
| Statement | fundamental rules such as cloud strategy, security aspects, data privacy, browser, cloud provider, single cloud provider for all SBBs |
| Rationale | business benefit and relationship to other principles |
| Implications | highlight the requirements for carrying out the principle, in terms of resources, costs, and activities/tasks. The impact to the business and consequences of adopting a principle should be clearly stated. |
Risk Analysis of the SAP Intelligent Enterprise Architecture
Risk Management is an ongoing task to identify, classify and mitigate risks affecting the SAP Intelligent Enterprise Architecture. Levels of risks are high, medium or low assigned initially or as residual risk after mitigation action.
| | | | |
| --- | --- | --- | --- |
| <ID / description> | High - missing user acceptance | Design Thinking, Training | Low - get feedback for further improvements |
SAP Intelligent Enterprise Architecture Solution Context
The Solution Context of the SAP Intelligent Enterprise Architecture gets visualized as diagram identifying
business capabilities of the solution

e.g. request project budget, review and approve project budget, get financial insights, report approvals

their relationship

to each other of type request / response or information flow
to the organization with involved business users, roles or applications to share with business stakeholders
SAP Intelligent Enterprise Use-Case Blueprint Diagram
Based on the scope, the SAP Intelligent Enterprise Architecture Use-Case Blueprint diagrams pivot from design thinking to architectural thinking. For this, user centric actions get mapped as target scenarios to technical aspects of the architecture.
For each most valuable combination of user and key objective, one separate diagram visualizes in storyboards the required data, involved applications and technical capabilities.
| | | | | |
| --- | --- | --- | --- | --- |
| <user context> | <user action> | <data, attributes, type> | <list of systems and applications> | <highlight requirements> |
Technology Work Products for SAP Intelligent Enterprise Architectures
SAP Intelligent Enterprise Baseline Solution Architecture
The Baseline Solution Architecture diagram describes existing building blocks, components and IT systems of the use-case blueprint diagram, their relevant dependencies to the target SAP Intelligent Enterprise Architecture, reuse options and integration requirements.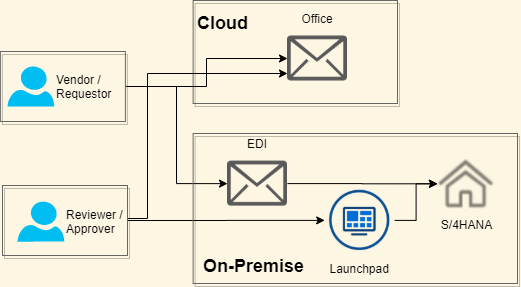 Solution Concept of the SAP Intelligent Enterprise Architecture
The Solution Concept identifies ABB as high-level, non-technical representation of the SAP Intelligent Enterprise Architecture solution, which have to be linked to the needed business capabilities described in the solution context.
SAP Intelligent Enterprise Architecture Solution Realization Diagram
Solution Realization Diagrams describe the SAP Intelligent Enterprise target architecture, with realized ABBs of the Solution Concept, by mapping vendor specific SBBs for applications and functional components like SAP intelligent cloud services.
With Fit-Gap analysis based on the baseline solution architecture, needed changes get identified, also for SBB of existing components e.g. existing web shop. Functional dependencies of SBB get identified as well as user / role relationships, derived from the solution context.
The diagram considers inputs of the Architecture Principles and the statement of architectural work e.g. default vendor defined in architecture principles for cloud solution defined in statement of architectural work.
SAP Intelligent Enterprise Architectural Decisions
Documents discussion and outline decisions during the SAP Intelligent Enterprise Architecture project, with reasoning e.g. to track reasons of decisions against alternatives.
| | | |
| --- | --- | --- |
| <ID> | <short description> | <details about reason and possible considered alternatives> |
Conceptional Data Diagram of the SAP Intelligent Enterprise Architecture
Complements information flow defined in the solution realization diagram of the SAP Intelligent Enterprise Architecture with processed information. Outlines the relationship between data and business objects.
Defines entities, attributes and relationships with cardinality. Describes abstract data entities (with information objects as concrete representation) stored with different, also external, SBB. Conceptional Data Diagrams can be modelled with Entity Relationship or UML diagrams.
SAP Intelligent Enterprise Architecture Software Distribution Diagram
Shows the distribution of SBB grouped by ABB, and identifies their deployment environments (on-premise / cloud) within the SAP Intelligent Enterprise Architecture.
Uses information from baseline solution architecture for existing building blocks and vendor-specific information of solution realization diagram. Data flow to understand latency or network requirements is optionally.
SAP Intelligent Enterprise Environments & Location Diagram
Visualizes the deployment locations with geographical information of SAP Intelligent Enterprise Architecture building blocks and their interaction, with relevant runtime environments of SBB and network details.
Identifies locations of users and existing BB, deployment environments of target building blocks. Grouping of building blocks based on data center. Optionally, visualize data flow to understand network requirements
SAP Intelligent Enterprise Architecture Roadmap
The roapmap shows a project planning overview of action items with a timeline when to realize the SAP Intelligent Enterprise Architecture solution. Sequences outline the progress from baseline to target architecture with milestones associated to business value.
Work packages are identified together with their business value and prerequisites. Furthermore they get categorized according to their capabilities, described in the Solution Context and the scope of the statement of architectural work.
Template: diagram shows business values delivered within timeline on x-axis and capabilities on y-axis, with a sequence of work packages and their dependencies
SAP Intelligent Enterprise Architecture Technology Platform
The SAP Business Technology Platform offers the capabilities to implement Intelligent Enterprise Architectures, with integrated or extended business processes and Data-to-Value scenarios with Open Architecture, Business Centricity, Unified Platform qualities.
Database & Data Management, Analytics, Intelligent Technologies and Application Development & Integration capabilities can be translated to ABBs, which get linked to needed business capabilites in the solution concept. These vendor agnostic ABBs contain BTP specific services as SBBs to be integrated in the solution realization.
SAP Business Technology Platform Building Blocks
The SAP Business Technology Platform supports different kind of Intelligent Enterprise use-cases with architecture and solution building blocks.
Business Capability Management includes the definition of current & future skills (heat map)
| | |
| --- | --- |
| Business Solutions (SaaS) | e.g. SAP Industry Cloud |
| Business Services like Accounting, Billing, Service Demand | domain specific business services such as SAP Cloud Foundry Tax Service, Omnichannel Promotion Pricing |
| Process Integration | SAP Cloud Platform Integration Suite |
Process & Data Business Optimization use-cases detect optimization potential and provide development input e.g. improve budget request and approval
| | |
| --- | --- |
| Data & Process Integration | SAP Cloud Plattform Integration Suite |
| Process Extension | SAP Cloud Platform Extension Suite |
| Process Management & Automation | Workflow Management |
| Business & Technical Services | Service Marketplace e.g. Service Ticket Intelligence |
| Digital Experience | e.g. Mobile, Portal services, Launchpad |
| Development Productivity | e.g. Business Application Studio, CAP, Transport Management |
Technology Management with standardization and complexity reduction
| | |
| --- | --- |
| Business Applications | corporate used applications e.g. SAP Data Warehouse Cloud, ERP such as S/4HANA (on-premise/cloud) |
| Data Layer e.g. cloud "Data Fabric" | corporate used components e.g. SAP Data Intelligence |
| Process Integration and Extension | SAP Cloud Platform Integration & Extension Suites |
Innovation Management evaluates trends and business impact
| | |
| --- | --- |
| Open unified, business-centric cloud PaaS service model with BTP Qualities | open source, multi-cloud integration options |
| Process Integration & Extension e.g cloud PaaS | e.g. SCP Integration & Extension Suites |
| Data Layer e.g. cloud "Data Fabric" | e.g. SAP Data Intelligence |